Public space should be designed for human enjoyment, after all it provides a place for people to socialize, to move through, or to relax. Although public space, whether it be our streets, parks or squares, is technically 'free' to access, we indirectly pay through taxes or rates. The location, design and maintenance of proposed and existing public spaces is a significant investment, so it is a shame when their potential isn't fully realized.
Wandering around Seattle, Drawn to Cities stumbled upon Tilikum Place, a small urban park in Seattle's inner neighborhood of Belltown - and started to do some wondering. Tilikum Place is one of a few public spaces close to Downtown, and has a significant history, yet on first impressions, appears underutilized and uncared for. With cities experiencing so many challenges in securing new open spaces in densifying neighborhoods, it was compelling to do a little investigation of how the space is presently enjoyed and consider some opportunities for enhancement. First up is a summary of the impressions of the site, followed by a few potential opportunities to enhance Tilikum Place. At the end is a snapshot of the investigation (from site drawings to mapping, observing and listening) which lead to these initial conclusions.
Impressions
Above - Images of Tilikum Place.
Context
Tilikum Place honors the first inhabitants and traditional owners of the region - "Tilikum" is understood to mean "welcome" or "greetings" in Chinook. The square features a life-size statue of Chief Seattle, whom the city was named in honor of, raising his arm to symbolically greet the first white settlers to the region in 1851 . Tilikum Place is located at the intersection of the original land claims of Seattle pioneers Denny, Boren and Bell. For these reasons the square is listed on the National Register for Historic Places. The nomination form for the National Register has an interesting quote about the development of the site as a public space in its citation:
"Considering the founding settlers' attitudes about the development of downtown, their lack of planning for public open space or street amenities in their rush toward economic gain, it is remarkable that the statue, the fountain, or the open space was approved by the city at all" (National Register for Historic Places Nomination Form).
The Belltown area is presently one of the densest parts of the city having undergone regeneration over the past few decades. The neighborhood and adjacent downtown is built up with limited open space - parks to the north are difficult to access at times due to high traffic volumes, large roads and dangerous intersections. There are a large number of redevelopment sites, and vacant sites with redevelopment potential, in the immediate area. With a mix of residential and commercial buildings and proposed buildings nearby, there is potential for Tilikum Place to become increasingly utilized by people seeking respite from a dense environment.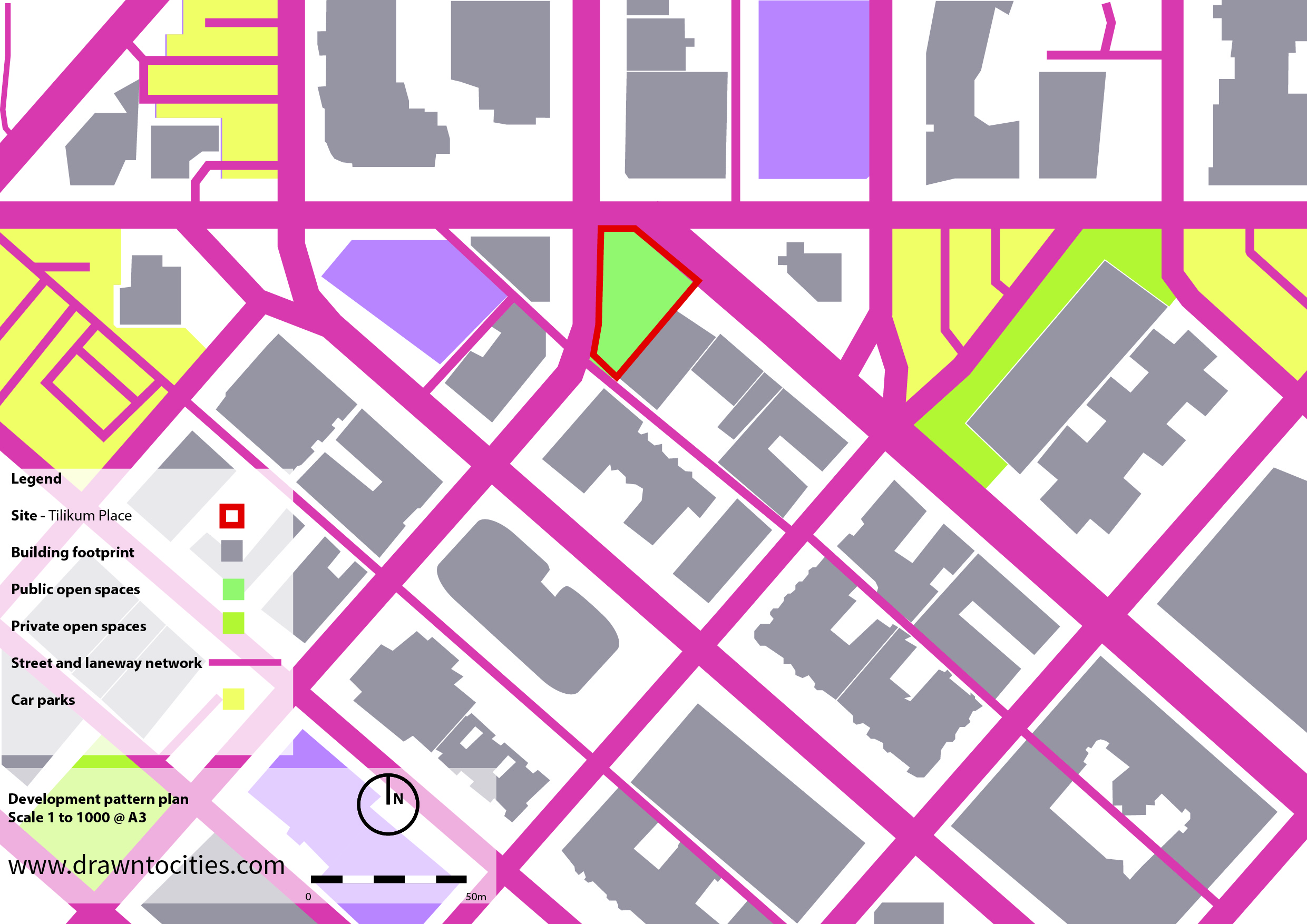 Due to the extent of private land ownership and development in the area, it will be difficult to secure new open spaces for people to enjoy. As a result the small open space may be met with increasing demand and also be considered more significant in the supply of open space for the area. The image on the left shows one of the new buildings under construction close to Tilikum Place.
To better understand the features of the space, different perspectives of Tilikum Place were drawn in a sketch book.
Features
At first impression, Tilikum Place feels dominated by concrete and quite empty. However, the grey square is filled with green park benches, metal chairs and tables, concrete planter boxes with flowers and shrubs, ornate street lamps and rubbish bins.
The ornate metal chairs and tables in the square are secured together with chains and padlocks, then chained to the ground. Perhaps the designer of this space is very keen to maintain the present arrangement of furniture, or the city is fearful of vandalism or robbery. It is difficult for people to step over the chains to sit down and it is challenging for them to move the seat from its awkward angle, to sit comfortably with the table or to address something of interest, such as the views of the Space Needle or Puget Sound. As a result few people use the chairs and tables. The presence of the chains and padlocks has the potential to impact perception - people may avoid the square as they start to wonder, are those chairs and tables secured like that because this area susceptible to criminal activity?
Although Tilikum Place is small (0.1 acres) it has some prominent security cameras. While this undeniably can provide for safety and security of visitors, and many would not notice their presence, it may make some people think twice about spending time in the space. They may begin to wonder, why are there so many security cameras, am I about to get attacked?

Park use
Again, at first impression, it doesn't seem as though Tilikum Place attracts a lot of interest - on many occasions no one appears to be making use of the little piece of public space, but observation and tracking people's movements proves otherwise.
Hundreds of people pass along the edges of Tilikum Place. Many walk by from their offices on their lunch breaks, some come carrying their guide book and camera to check out Chief Seattle and head off in the direction of the Space Needle, others journey between bus stops. Despite all this passing traffic on the edges, few people enter the space to pause or sit down.
Observing and tracking people's interactions indicates that in general, people who stop to relax in the space tend to keep to themselves. They generally avoid each other's presence, rarely acknowledging other park users by making eye contact or sitting nearby.
Occasionally strangers talk to each other - most commonly it is the few homeless people sitting in Tilikum Place asking passers by for money or food. While this may be a common feature of many park experiences, it is a shame that people don't feel more comfortable interacting with each other in public space. Instead they are observed to partake in more solitary activities such as listening to music, reading their book or talking on their phone. The bus stop has no shelter, so on cooler days, people approach Tilikum Place in time for their bus, rather than waiting at the seat.
Opportunities to make Tilikum Place more interesting
Embrace Trust
Tilikum Place is literally supposed to mean "welcoming" place - the statue of Chief Seattle waves, greeting people to Seattle. Can you imagine being welcomed into someone's home only to find that their chairs and tables are chained up and their security cameras are watching your every move? Why is public space designed any differently?
Why aren't we trusted to care for this furniture as though it were our own? The design of these elements in Tilikum Place make for an uncomfortable experience. Trying to sit down is awkward - first stepping over the chains, then trying to move the seat just a little so that it's in a comfortable position. The security cameras give a sense of being an unwelcome trespasser.
In her TED Talk, Amanda Burden, former director of the New York City Department of City Planning and Chair of the City Planning Commission, discusses the elements which create lively and enjoyable public spaces and the elements which keep people away. She describes comfortable movable seats as an essential element to the success of Paley Park in New York. These seats she says, attracted people - they would move the seats a little, perhaps to make the most of the sun or a view, or to meet their needs on that occasion. The people sitting would then attract other people. The presence of people in a public space creates passive surveillance, over time minimizing the need for such prominent security cameras. This echoes the wisdom about the essential ingredients for a successful (or unsuccessful place) in William H Whyte's film, The Social Life of Small Urban Spaces (1988), and Jan Gehl's Life between buildings (1971).
People should be trusted to enjoy, adapt and care for Tilikum Place.
This could be achieved by unlocking the chains and padlocks from the seats (perhaps initially hey could just be chained up at night when there are less people around for surveillance). More people will feel enticed to use a space where they feel trusted and welcome. They will now be able to move their seat into the sunshine on a wintery day, or to arrange some extra seats together for a larger group; or to sit under one of the trees for shelter. As people feel comfortable and at home in the space, they will be more likely to use the space and stay longer creating passive surveillance. Over time this will minimize the need for prominent security cameras (if the City or businesses who installed them feel the safety of the area warrants it).
The many studies, observations and interventions conducted by Burden, Whyte and Gehl, suggest that park patronage and interaction can be encouraged by allowing people more choice, freedom and more control. They suggest choice, freedom and can more control can be created by allowing people to move seating to suit the weather conditions and their social needs, as well as designing furniture structures for multiple functions (for example a ledge which can perform as seating for an office work during lunch hour and as an informal play space for a child to run along balancing).
Expand Nature
Amanda Burden also attributes the success of Paley Park to the unique greenery it provides in a dense city environment. Tilikum Place presently has beautiful trees and a handful of concrete planter boxes with flowers and shrubs. Most people experience Tilikum Place by walking along its edges - they walk with their heads down to get somewhere else. There is potential to activate the edges to provide a more engaging experience for these passers by, and potentially enticing them to stop and stay every once in a while. It was observed that the 4 lane Cedar Street is thankfully a particularly quiet street with respect to traffic. The public space could be extended an entire lane width allowing for a beautifully landscaped edge to evolve. The eyes of the passers by would be drawn to the beautiful landscaping below foot and they may be attracted to spend time in Tilikum Place. In built-up Belltown the additional greenery would act as a visual attractor and provide an enhanced connection to nature.
Create an asset
Urban strategist Scott Burnham transforms existing urban infrastructure, creating new opportunities for people to experience, experiment and engage. Building on the city's assets as "platforms for more enjoyable public experience", Burnham's work builds on creative and social capital, offering new ways to appreciate and develop relationships with the physical structure of the city.
"The truth is that a city has all the resources it needs; the key to unlocking these resources is seeing the urban landscape not as the end result of a previous creative process, but as the beginning of a new one

—

a landscape to design

with, not for." (Scott Burnham).
His projects invite public intervention, questioning the predominant approach to design where engagement with and alteration by the public is minimized - he argues that spaces should be designed with people and not simply for them. An installation, he curated as part of Urban Play for the City of Amsterday (2008), focuses on notions of trust, play, interaction and engagement. It revealed the unintentional consequence of institutions and public services in the 'protection' of assets actually limiting opportunities for public appreciation and use (check out this installation as part of Urban Play to find out more).
Revitalizing Tilikum Place as an asset for all to appreciate and love is not an easy task, but there's hundreds of ways in which this could be achieved. A primary opportunity is to do as Burnham suggests and design and maintain Tilikum Place with the people who use the space.
To fully establish Tilikum Place as the valued asset it deserves to be requires understanding of how the community wishes to use the space and investment in researching how to unlock this potential. Children may offer a vision for how Tilikum Place can be redesigned for play; the homeless community may have ideas for how services can best respond to their needs directly in a space where they feel comfortable; people waiting for the bus may offer insight into how a temporary shelter in winter could entice them to sit to wait for their bus home. People's ideas whether they be for the layout and design of the park itself or for the events or functions it could host will add vitality to this small piece of Seattle.
[Read on if you would like a little more detail on the analysis process]
Drawing process
Sitting in a space and spending time drawing provides the opportunity to consider different perspectives and intimately get to know a space. Drawing requires a great deal of focus and consideration of different elements of a space.
People passing by stopped to look at the sketches in progress. Many shared their own perceptions and experiences of the space, providing additional insight and reflecting the power of a sketch to evoke people to share their ideas about a place.
Mapping process
Mapping the attributes of the site and its context assisted in understanding its functionality, accessibility and the potential demands of users of the space. The first stage involved mapping static elements of the site and its surrounds - the street furniture, the street network, the buildings - the location and scale of things.
The next stage involved mapping a variety of observations of people inhabiting Tillikum space - their movements; the activities they engage in; and how they interact with strangers. Sitting in Tilikum Place and watching life unfold helped to develop an understanding of the space.
Listening Process
Initially, surrounding sounds were documented to gain an understanding of potential impacts on the enjoyment of the space. Noise interruptions can impact the desirability of using a public space. These can be both constant and intermittent and should be considered in the design of spaces. Despite sounds from traffic, construction sites, occasional airplanes, and ferries in the distance, there wasn't a great deal of noise impacting on Tilikum Place.
Another aspect which is interesting to listen to is the verbal exchanges between strangers. Listening to what strangers say to each other can reveal a lot about the users of the site, the site itself and also people's perceptions. In Tilikum Place, talking between strangers was interesting given that generally people avoided interacting with each other.
On an average day you can hear people asking strangers for money, asking for directions, offering to explain the history of the site to someone taking a photo or just exchanging pleasantries. It can reveal a great deal of insight into how comfortable, safe or welcome people feel. At Tilikum Place, diverse people expressed their thoughts with strangers - the policeman, a parks maintenance employee, a tourist, a few homeless people, a few Seattle locals, a skateboarder - they were old and young, male and female.
From one of the surrounding radio stations, a journalist approaches a stranger:
"Hi there, do you want to be interviewed for the radio?"
He finds a few willing participants to share their views on health care.
There's people asking strangers for help:
"Excuse me can you spare any loose change?"


"I just got a new phone, do you know how I can listen to my music like on an app or something?"
"Mister can you give me a dollar for food."
"Can I bum a cigarette?"
And people offering help:
"You look lost can I help?"
"I can give you directions around here."
"Can I tell you about the statue you are looking at?"
Some share their frustrations:
"You can't move this seat. This is so annoying."
"What sort of a person would make this mess?"
"I have to clean this mess up to pay my bills."
Then there's people making friendly conversation:
"We used to make a wish in the fountain."
"You saw that? My wheels get stuck in the cracks all the time. Well enjoy your day."
"Where are you from?"
"You never see classy girls like you here."
"Can I sit here?"
"Nice day for it. Enjoy your ride."
Some conversations reveal another side to Tilikum Place; some conversations have a sense of tension:
"A black man talking to you miss, and some white man is going to tell me to get away in a second but don't worry, if I was going to steal your purse I would have done it by now".
He asks the audience passing by:
"hey man, are you going to tell me to leave her be".
Once he has moved on a stranger approaches:
"Was he bothering you before?"
Overhead exchanges begin to engrain perceptions of Tilikum Place:
Layering process
Collage helped to layer and question the different understandings of Tilikum Place much of which had begun to emerge through the sketching, mapping, observing and listening. The technique allowed for elements of Tilikum Place to be literally cut out, abstracted and reassembled, enabling fresh ideas to develop.
What elements create a sense of place?
If we take out all the elements that surround a place, do we still have a sense of where we are and the time of place we are in? How do the fixtures (the trees, chairs, tables, bollards, plants, lighting monuments, etc), or the ephemeral elements (people and animals) shape our understanding of place?
Tilikum Place is characterized by repetitive physical fixtures (it has approximately 10 trees, 6 benches, 9 bollards, 8 square planters, 6 round planters, 4 tables and 12 chairs, 2 rubbish bins, 4 street lamps). But the trees are the same trees as you see over much of Belltown. The street lamps can be found 6km away in Wallingford. And the benches are the same stock standard as those in Melbourne 13,000km away. If we rearrange these elements, could we be anywhere?
The statue in Tilikum Place, of Chief Seattle, grounds us both in Seattle and the space itself - this isn't something you see anywhere else in the world. The ephemeral characters attempt to navigate through a now abstracted space - do they know where they are? Is the statue enough to ground them in Tilikum Place, in Belltown, in Seattle? Or are they confused, wondering if they are in Wallingford or maybe even Melbourne?
What makes a welcoming place?
'Tilikum' is often translated to mean 'welcome' in Chinook. The elements which make Tilikum Place a welcoming or unwelcoming place may be different things for different people.
The security camera at Tilikum Place may provide a sense of safety and surveillance. Yet to some it may feel like an invasion of privacy or trigger anxiety that this place warrants a higher level of security - perhaps it indicates that it is a dangerous place. The tables and chairs which are chained together and locked in their location may evoke a sense of frustration, inflexibility or distrust of the users of the space. While others may appreciate their constancy and feel reassured that they will always be there, not stolen or vandalized or in some new location with a different combination of chairs to tables. The sense of enclosure may feel claustrophobic or cozily inviting; the thought of being in a more open and empty space may feel isolating or relaxing. The surrounding architectural characteristics may be appealing to one, yet be ardently disliked by another due to its offensive color, materials, height or details. The trees filter the air quality, provide shelter in light rain or sunshine and are home to birdlife - but it is possible that they could also be considered a liability. The trunk could create a space for a predator to hide behind at night, or a branch falling in the wind could hurt a passer by, some one sitting below could become decorated in bird poo. The flowers add color and interest, but maybe cause hay fever to some. The neon signage could be seen to be decorative, helpful and inviting, or alternatively tacky, a corporate visual invasion of a public space.
Each distinctive process within the investigation informed the understanding of Tilikum Place as well as generated thoughts as to how it could realize its potential as a 'welcoming' place without significant investment.